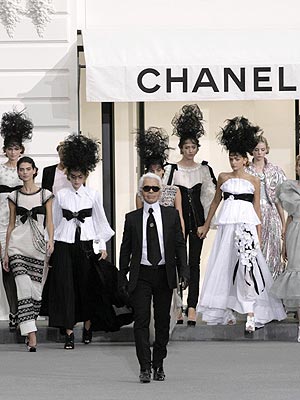 The Spring/Summer Collection by Karl Lagerfeld. At the Chanel spring/summer fashion show in Paris Karl Lagerfeld really did not adorn himself with borrowed plumes.

There was no need: featherlike details were a big part of many of the outfits from the Chanel spring/summer collection. Model Karmen Kass paraded along the 350 meter long cat walk wearing a dress with the floaty featherlike material.
The show was bombastic and pompous as always: models like Abbey Lee, Lindsey and Freja presented Karl Lagerfeld's newest Chanel creations for the coming summer season in a replication of the Jardins de Versailles.

In accordance with the setting live music was played by a classic sym.